Medical Accidental
Expense Policy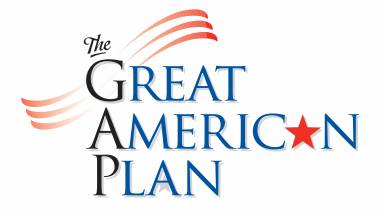 Do you wish you had a plan to help your clients cover the gaps in their Health Insurance Coverage? Would you want that plan to be HSA and Major Medical compatible with NO coordination of benefits, and have benefits paid directly to the insured? Have you been longing for a plan that is TRUE Insurance and not just another association or discount plan so that you could offer the flexibility to meet your client's needs? Would you be overcome with joy would you be if you found a plan like this that had simplified underwriting and was guaranteed renewable for life (even past age 65)? How excited would you get to hear of a plan like this that was issued with rates based on your current age, that was guaranteed to never increase from increased age or medical inflation?
Here at R.F.S. we have done our research and came up with the perfect plan to cover all of this and more, and that perfect plan is the Great American Plan underwritten by Loyal American! They offer one of the most flexible, competitively priced, best commission paying, supplemental health plans available on the market today!
They offer a supplement plan that is a perfect fit with any major carrier rather it be Major Medical, HSA, Hospital Indemnity/Surgical, or even Simplified Issue!
The Great American Plan pays benefits regardless of other coverage, so it can be also be paired with existing Health Insurance to help cover gaps in your expenses. This is most helpful if you have a high deductible major medical plan, an HSA, an Indemnity/ Surgical plan, or even a Simplified Issue plan. (Top 10 reasons to sell)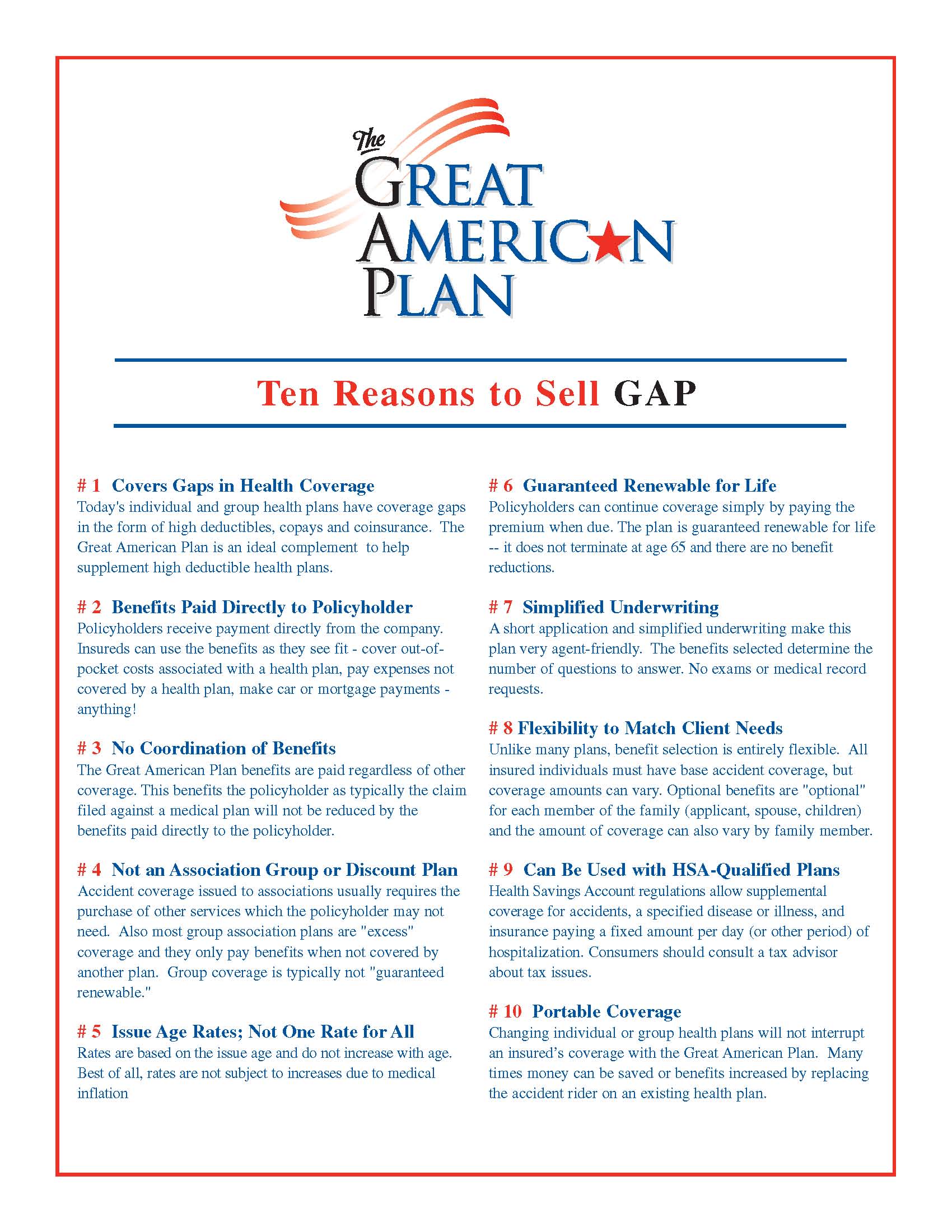 Click on Image to Enlarge or click here.
The Great American Plan provides a Base Plan that covers Accidents occurring in the past 90 days that are covered in either an emergency room or physician's office. On top of that you can customize riders to cover Cancer, Heart Attack and Stroke, Critical Illness (7-Major C.I.'s covered), Hospital Admission, Daily Room Benefit, Outpatient Surgery, and Accidental Death & Dismemberment. (Please note the base plan pays 24% street level, the riders pay 48% street level, and there is a 5% renewal for all for year 2+). (See Brochure for more details).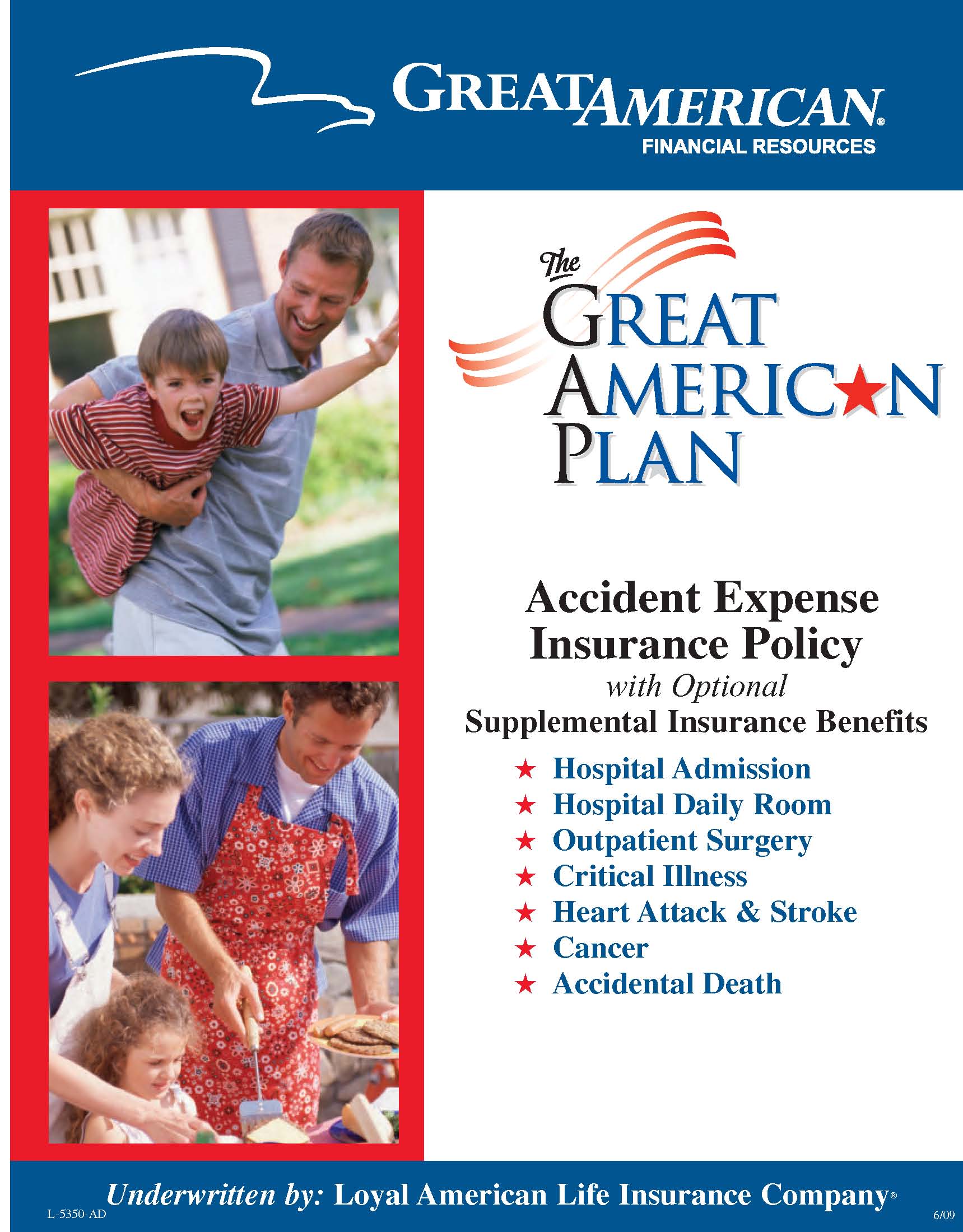 Click on the Image to Download the Client Brochure.
Many agents increase their cash flow by as much as 50% on one sale by adding GAP. Commission advances are paid weekly and since the plan has simplified underwriting, the product often gets issued in a few days. If a major medical can't be issued, then the GAP plan can provide some minimal level of coverage for your customer.
Below is an example of how an agent can increase his cash flow, while at the same time providing a complete package of coverage for his clients. Using a 40 year old couple with two children, in the first column quoted is a $2,500 deductible major medical plan with a $1,000 supplemental accident rider. In the second column the deductible is raised to $5,000 and GAP is added.
Compare the total premium and the total advance in each scenario... The agent has significantly increased his weekly paycheck while at the same time providing his client with better protection in the event of an accident or a serious illness such as a heart attack or cancer.
$2,500 Ded/80%
w/$1,000 Accident Rider

$5,000 Ded/80% w/GAP

Total Premium

$710.18

$672.05

Major Med Premium

$710.18

$561.07

Major Med Advance

$710.18

$561.07

GAP Premium

N/A

$110.98

Advance on GAP

N/A

$441.61

Total Advance

$710.18

$1002.68
GAP Coverage for $110.98 is for:
$5,000 Accident Coverage per person per calendar year; $0 Deductible
$20,000 Critical Illness Coverage per person
$50,000 Accidental Death & Dismemberment per person
To get started today, be sure to check your states availability for the Great American Plan (State Availability Chart), and fill out a contract and send it in first (Click Here for contract). (Software Download instructions)
Click Here to Download the Agent Guide.
Click Here to Download the Application.